WARNING: Beware of Cowboys selling "cheap" rugged phones

Some big rugged phones sites and TradeMe sellers are trying to flog-off phones that don't work in rural areas, and which may not work anywhere once Vodafone and Spark switch off the 3G cellsites next year – and they're lying to their customers about it, still promising "compatible with all NZ 3G/4G networks".
To help you avoid being stung, we've compiled a database of all rugged phones and whether they are really compatible. Read more at the links
I Saw It Cheaper…
Congratulations for being smart enough to read the warnings here about imported Chinese phones – most people don't find out until after they have made a bad purchase and they are trying to go back and find out why.
Comparing a phone model price across different websites is safe, right?
Wrong. Unlike Samsung and Apple, which have universal brand quality control, the second-tier phone brands manufactured in China's Shenzhen District are design and marketing companies who allow hundreds of different Chinese factories to build their own copies of the Blackview, Ulefone, Doogee, AGM etc models (often the same factories are making all of them), and the different factories have sometimes wildly different manufacturing quality. There is no universal quality control, and a Blackview sold by one factory might be excellent, while the same Blackview model produced by a factory down the road might fail in six weeks because Factory 2 is cutting corners with cheaper components so they can price it cheaper than Factory 1 and get more sales, or alternatively price it the same but enjoy higher profit margins. Each factory pays the marketing company royalties to use their trademarked brand name, but responsibility for product failure remains with each different factory.
If you don't believe us, visit www.Alibaba.com and search the Suppliers register for "Blackview". You can purchase at very low wholesale prices, but you have absolutely no way of knowing whether the factory you have chosen is good quality or rubbish. Without detailed knowledge of the Chinese market, it's "Russian roulette".
This method of doing business is crap for quality control because no one takes responsibility for faulty manufacture, but it also gives Chinese businesses the strength to very quickly upscale production if there is high demand for a product.
This is why, when you visit the Blackview, Ulefone or other brand websites and read their warranty fine print, you will discover that the marketing companies tell buyers they have to "go back to the retailer you purchased from": because Blackview and the other companies didn't actually build the faulty phone you are holding in your hand – only the retailer knows which factory really supplied that phone.
Did that retailer import the cheapest version of your Blackview model they could find from the cheapest factory? Often the answer turns out to be yes.
What does this mean for me?
It means that when you are surfing the web comparing prices on a Ulefone Armor 9E, for example, you are (not 'could be') making a fatal comparison mistake. You "think" the Armor 9E offered by each online retailer is the same, because as westerners we are conditioned to have faith in "the brand". But Website 1 may have sourced their stock from Shenzhen Factory 1, with more expensive components and better quality control. Website 2, however, may have sourced its stock from Shenzhen Factory 56 which used cheaper components.
There may actually be little similarity between the Armor 9E on sale from different NZ websites, except the name badge and licensed packaging.
So how can I possibly know whether I am buying a reliable phone?
If you are relying only on price comparison and the model name, you can't possibly know.
Each retailer is sourcing from a different factory. The more that a retailer haggles for the "best price" on a shipment of phones, the more likely that the wholesaler will source that stock from a lower quality factory, as a recent news article on the Chinese phone industry made clear: "You will never know if the quality is good or bad. It all depends on the price you agreed". In China, where consumer protection law is almost non-existent, you really do get what you pay for…and unfortunately the person left holding the buck at the end of the day is the final customer.
"This story is all too familiar to importers who've ever pushed their supplier too hard to reach the lowest price. A reduction in price is almost always met with a similar reduction in the quality of the finished goods. When you demand a lower price for your product, this pressure often forces your supplier to make cuts in the face of lower margins, leading to lower quality products," reports another article.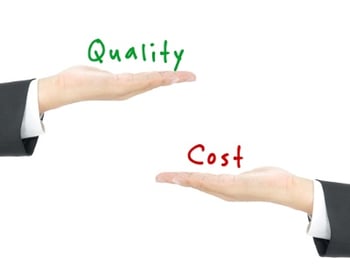 Ultimately, it comes down to the credibility of the online retailer you eventually choose to purchase from. The Outdoor Phone Store has been importing Chinese tech for more than a decade, literally millions of dollars worth of phones. We learnt a long time ago which factories we could trust and which to avoid. We have a dedicated purchase agent in Shenzhen who we've been working with since 2013.
We pay premium wholesale prices (up to NZ$150 more, per unit, than our competitors are paying) for our Blackview, Oukitel, Ulefone, Doogee and AGM phones precisely to ensure that our models are higher quality and more reliable  – which means fewer customer complaints and an easier life all around. It's just not worth our time and effort to sell the cheapest versions of these phones. As our customers have noticed, we get first choice of the new releases – sometimes weeks ahead of our competitors – because our well-paid suppliers want to keep us as customers.
Yes, that makes our phones more expensive than our discount competitors, but ultimately we're doing our customers a favour: spending a bit more to get the best stock and backing it up with the best warranty and tech support. That's why some of our clients are STILL using phones they purchased from us in 2016/2017…we have been able to service their phones and keep them operational.
Paying higher prices to credible, hand-picked Chinese wholesalers also gets the Outdoor Phone Store greater access to genuine parts and tech support. We were surprised to find one of our competitors doesn't even mention the new 4G-calling VoLTE system (apparently because they are unsure how to get it working consistently), while another tells its customers "it is your responsibility" to make it work.
Whereas the Outdoor Phone Store quietly gets on with the job and ensures that where a phone is capable of VoLTE on any given network, the capability is actually provisioned..
Is this why Outdoor Phone Store prices are higher than those on TradeMe or other sites?
Yes, it is. Any schmuck can visit Alibaba, buy some phones for NZ$500, add on a $100 mark-up (20%) plus GST, and offer you the "lowest prices" on a Blackview phone. That's the 'quick turnover, no repeat business' model of selling. It works on the premise of luring a customer with the cheapest deal and running an absolutely hard line on warranties by rejecting nearly all claims. Because these smaller retailers don't get repeat business long term, they constantly require 'fresh meat' and they get that by continually lowering prices, which in turn requires them to buy from cheaper factories – it becomes a vicious circle.
That's the "discount" model of rugged phone sales, usually adopted by websites affiliated to Ebay or TradeMe traders whose chief goal is a quick sale. They don't have in-house tech support, which also usually means they don't know to to turn on full compatibility with NZ/AU networks.
The other model, which the Outdoor Phone Store and some other big retailers worldwide adhere to like Rugged Phones South Africa or Rugged Phones Canada, is the "full service" model, where we take on the genuine warranty obligations that the Chinese factories don't provide, and we stock the repair parts locally and have our own tech staff.
Chinese rugged tech is brilliant – if you buy from the right factories and if the retailer can offer full local support. That's the "added value" you are purchasing by paying retail. But without that support, your shiny new purchase is a risk: if anything goes wrong the cheap traders will cut you loose, and because they're buying from cheaper factories the risk of a failure is already higher out of the box.
There are easy clues that will help you discern the culture of a retailer:
Are they focused on price in a way that makes you want to count your fingers after shaking on the deal?
What can I find on their sites about who would actually do repairs? Am I expected to pay full commercial rates to a third party to get my phone repaired? If the site doesn't have in-house techs, then who is actually qualified to tell me my phone does not meet criteria for a valid warranty claim? – how would they really know without paying a technician to check?
Is there evidence that the retailer is prepared to sell sub-standard glued-shut phones that can't be repaired? This would indicate the retailer is primarily sales-driven and not particularly worried about aftersales service or whether a phone will last. If the retailer does not reveal exactly which of its phones are hermetically-sealed (glued shut), that should be an instant red flag because the customer is prevented from making an informed purchase choice.
Does the retailer have a social media page where anyone can leave a comment? If not, why not?
So, to summarise…
Remember, unlike Samsung or Apple which control every aspect of their manufacturing process, Chinese brands licence hundreds of independently owned factories to build their designs, and there is NO brand-wide quality control.
Just because you see the same Blackview, Ulefone or Oukitel specific model on three different websites for three different prices, it doesn't mean you are actually comparing the exact same phone.  Those websites are most likely buying from three different factories and potentially three different qualities of product depending on the price they were prepared to pay. The key question for any would-be purchaser to ask themselves is "do I trust this retailer to have invested in quality stock?"
Followed by, "Do I trust this retailer to honour their warranty down the track, or to genuinely be able to diagnose and repair any fault?"
UPDATE:
One of our competitors has scrambled to reassure its customers that it knows – based on the "parts numbers" – that its phones are the same as ours. That claim is charmingly naive on so many levels. Firstly, the parts used by all factories have to use the designated part numbers so the design can be assembled. If the part numbers were different, spotting dodgy phones would be easy. Clearly the competitor has never seen a Shenzhen knock-off team in action – maybe this report from Engadget will enlighten them:
"We caught some shops repackaging what were presumably refurbished phones, as well as sticking new labels onto parts and accessories. We're normally cool with buying refurbished goods to save a few pennies, but here in Huaqiangbei, you need to know the game in order to avoid being scammed. That said, it's not that hard once you've explored the site a few times — these guys just do it in front of you. Hell, we even watched a woman carefully applying fake AT&T-stamped labels onto fake iPhone 3GS boxes, while chatting with us about the then-missing white iPhone 4.
But here's what really worried us: some of the booths were peeling old labels off used phone batteries to put on new ones, while the others were slapping shiny "QC approved" stickers onto "SanDisk" microSD cards. Frankly speaking, both sightings immediately killed our gadget lust on the spot. On one hand, it's rather hilarious that all of this happened right in front of our eyes; but looking from the other side, it makes you wonder who could guarantee the reliability of these random parts, how many of these end up on eBay.."
But, getting back to the part numbers, the number on the circuit board doesn't tell you about the quality of the components soldered into the board, it doesn't tell you whether the factory has used refurbished components.
Online stores selling the lowest-priced stock they can find run a high risk of selling you a dud phone (which might explain why so many of our rivals' customers come to us for help). According to the competitor, there's nothing for you to see here, and their "everyday low prices" are doing kiwis a favour. Yet Blackview itself has issued a warning about cheap low-quality units on the market:
So who do you believe? Blackview, saying beware of cheap offers that are likely – as most commentators in the various linked articles are saying – "of poor quality"? Or do you take the word of the discount sellers telling you to stay focused on their low prices?
By mid last year, the problem was even impacting Amazon.
We can't make the purchase decision for you. All we can do is explain why our prices are a bit higher, and why we choose not to stock the cheaper gear. Most of the cheap stuff isn't counterfeit as such, it is just badly assembled and often using cheaper, less reliable parts. We've opened up some units and found screws missing, seals missing, bad connections on circuit boards.
Buying from factories where the workers are better paid results in a much better quality phone.
Super-discounted or fair trade? Glued-shut disposable phones or sustainable screwed-shut repairable ones?
That's the beauty of the free market – it is entirely your choice…